Remove Rear Arm and replace Arm bearing

Rear suspension of Hydro-pneumatic Citroen, includes BX, use trailing-arm system. Pivot shaft of arm sets on the subframe by through the roller bearing.


All successive hydro-pneumatic Citroen adopts this bearing;however, it becomes useless by running certain distance,mostly. It is well-known at Europe as its one of weak point; since there is supplied "Rear Arm repair kit" as for genuine parts.

By damaging bearing, rear suspension works dull and vehicle becomes
uncomfortable to ride in.

The omen of bearing damage;

Negative camper on Rear tires.
Uncomfortableness under heavy attack from Rear.
Mechanical noise by height-change: creaking or grating sounds.
Hard recovery by pushing rear-bumper.
Keeps Rear-height after long-time parking.
(It downs the body if you push; at the same time, it sounds.)

Above samples are damage symptoms from my experience.


Negative camper of my rear left-foot.(Mileage:72,000km)

---
- Tools -
Remove Rear Arm

24mm Deep socket
24mm wrench
13mm socket
Spinner handle
Trque wrench 20kgf/m
(All plug angle : 1/2 inchÅj



Arm bearing replacement

30cm metal pipe: for example an water-service tubing.
Plastic-head hammer
Metal-head hummer
Narrow bar
The works are Removing Rear Arm and Exchanging Arm bearing.
Those works require your physical strength - and even tools, such as 3/8 plug angle tools doesn't work.

---
- Rear Arm Removal -
Remove Rear Arm is done by taking off - stabilizer's bracket, suspension cylinders pin, brake pipe's plastic bracket, insertion of brake caliper and pivot shaft for the end.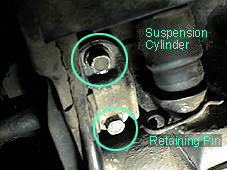 First, Remove the bracket(13mm x 2), which fixing stabilizer on the arm; and also remove the pin, which fasten between suspension cylinders piston-rod and arm.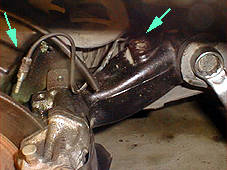 Take off the brake pipe from both bracket and brake caliper.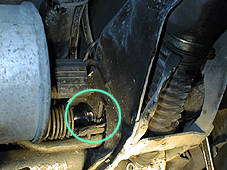 After brake pipe off, to insert 24mm deep socket into the screw hole and loosen the nut on the pivot shaft from inside.

Then,to pull shaft out from outside.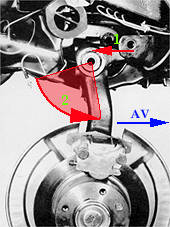 After shifting the whole arm set toward back direction, to round its angle 90degree forward turned.
DO NOT catch brake lines on this transaction!
Then, pull them out from body side direction.

I am sure you lose 1/3 of your physical strength :-p

# Since my both arms were busy on the above work, I used snap-shot from my own information.
---
- Removal and refitting of Rear arm bearing -

The Structure of the rear-arm pivot.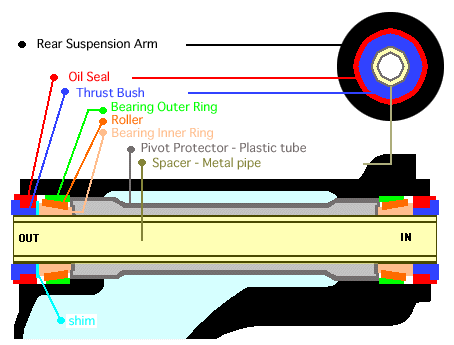 - The decomposing method -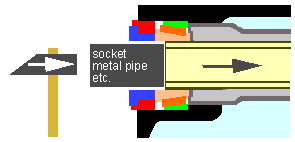 Knock off the "Spacer-central metal pipe-" with suitable sized socket etc. The force is not needed so much.
Bearing bush, roller bearing, and inner ring will fall out when the Spacer is out.
Pull off the oil seal with plier.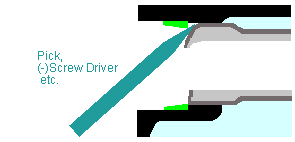 Remove the pivot protector (plastic inner tube) .

Although this has not broken, but will be an obstacle when removing the outer-ring of bearing.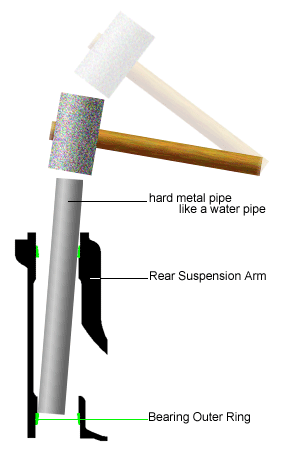 Knock off the bearing outer-ring using hard metal pipe - like the water service tubing - etc.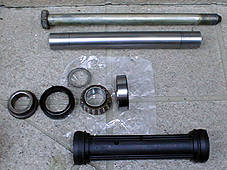 The components of rear arm pivot.

Pivot shaft
Metal spacer
Bearing bush
Oil seal
Bearing and ring
Pivot protector(black one: plastic tube)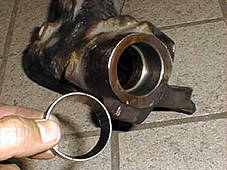 Rear arm and bearing outer ring.

When insert new ring, grease it thinly and put into hall with a plastic hammer etc.

If an entrance is exceeded, the collar needed. for pushing into the back-notch.

I used suitable size socket at this work.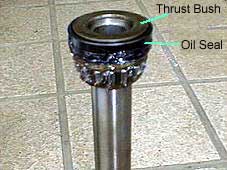 Assemble "Spacer(metal pipe)" and roller-bearing, oilseal thrust bosh at one side.
Don't forget insert the shim between bearing and thrust bush. Set this part to the outer side of rear arm. (see the figure of rear arm pivot structure). Then please fully carry out the grease rise of the bearing.

Insert half assenmbled spacer and bearing into arm, and construct another side.

Refitting the composed rear arm in reverse procedure.
13kgf/m of the attachment torque of a pivot shaft is designation.
Please caution careful not to break a brake line also at the time of attachment.
Don't forget air bleed of brake-lines.
---
- Parts List -
(the required number per one side)
arm bearing(2): 75 472 408
pivot protector(1): RP 5179 12
oil seal(2): 79 03 087 098
(C) Y. Narabayashi

Translate: Taki Enomoto, Y. Narabayashi
---