Hint for HP belt tensioner adjustment

It was used to be very tough work : the tension adjustment of High-pressured Pump-drive belt( following, HP belt) for Citroen BX.

It seems everybody have a hard time to access; using long bar, making original "Special Service Tool" at Citroen specialized shop and so on.

It adjusts manually by setting the tensioner; however, it is located in narrow/deep inside & surrounded high-pressure hoses nearby.

I also used bar for it before. Later Mr.Shoji- Japanese CitroenML member- has taught me a better solution. Here, I introduce the way with adding my own approach.

The method is easy - you just open your bonnet of vehicle, thus neither removing tire wheel nor inside-cover at fender are required.
You can work away from your garage ,as well as stuck vehicle which cut the belt.

# 16V and Diesel models have different pump locations from the bellow pictures.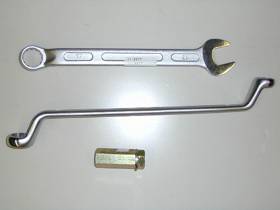 Tools for this time

(From Top of figure)
17mm combination wrench
# Using 2 wrenches is quite convenience.
13mm Deep-off-set wrench
17mm long nut
---

Actual Work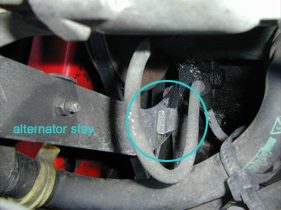 Beside the alternator-stay, you can see square notch which adjust HP belt-tensioner.

This notch is a part of tensioner-blanket so that used for hanging on bar in order to pully. Next, coil itself, is the hose from high-pressure pump. If you get a damage there by barbarous act, you will go through the mill later.

As you can see the photo, it's a cramped spot.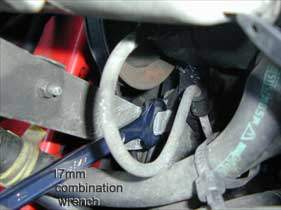 Now, here is"learned" method - it was Columbus' egg to me.

The width of this square-stay is 17mm. Hanging spanner on the stay and pull front, you can adjust the tensioner. Opposite side of wrench position is parallel with radiator's tube; thus, any of parts won't be an obstacle at your work.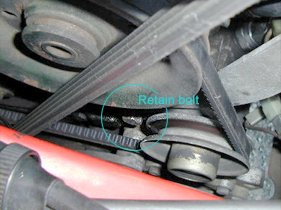 After realizing this tool availability, now I loosen the bracket fixing bolts.

The bolts exist at pulley side;located at the both top & bottom of tensioner. Photo shows upper bolt, and bottom one is fixed as for tensioner blanket's fulcrum.

At first stage, I loosen both two.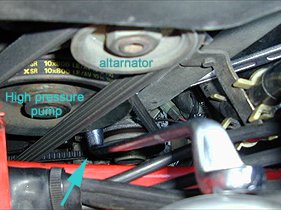 Next tool is 13mm deep-off-set wrench.

The bolt is located right next to the pulley, flat wrench won't be used for loosening- the pulley become an obstacle.


3/8 ratchet handle + socket is also possible to work; however, it is very tough because of its deep location.

This time,I used 25mm off-set and 27cm-length wrench(combination of13mm/17mm), its performance was excellent.


---

Option: Much easy method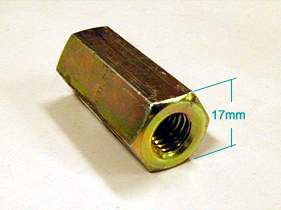 On the work of tension adjustment, sometime it is hard to put force on 17mm spanner, because of its short length. The photo shows "long nut" which uses for connecting screw bars, it is available at almost all D.I.Y. stores in Japan. Thus, I assembled two wrenches with it as for fulcrum.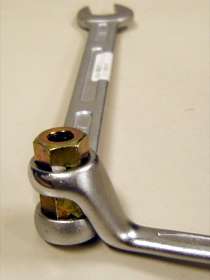 Put together long nut with the wrench holes.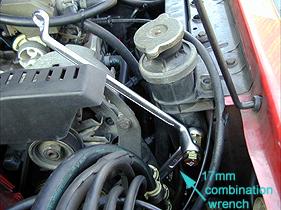 As you can see the photo, I use them with some angle.
Because of its longer reach, you can put force on it.



I would like to recommend to purchase " cheap" tools for this work because of break risks.


(C) Yohsuke NARABAYASHI
Translate: Taki ENOMOTO
---