---
2019 CMO News
C. Mars is Now in Virgo at Dawn
The Planet Mars is back in the eastern sky. The apparent diameter is only δ=3.7" and the season is λ=103°Ls now. Mars will next be at opposition on 13 October 2020 at 23h GMT. Its largest angular diameter will be 22.56 arcsecs on 6 Octoberl 2020 at 14h GMT.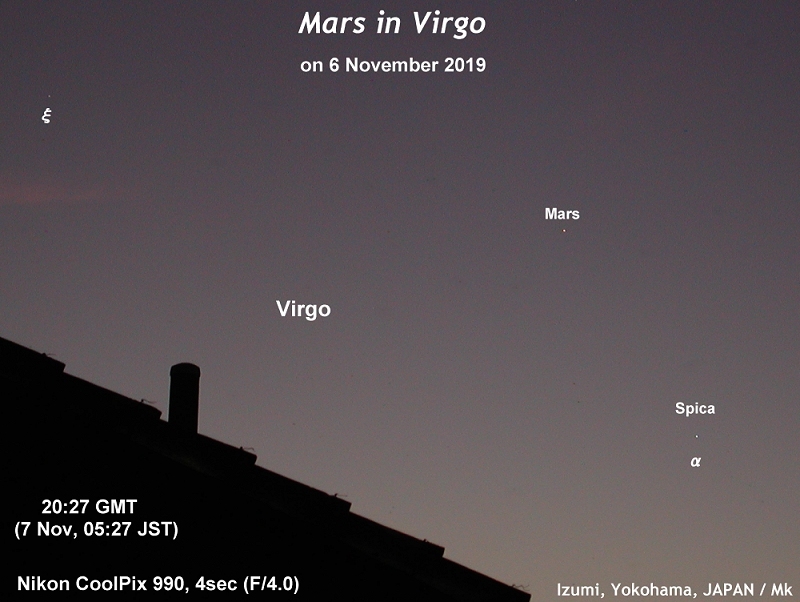 B. A Biographical Note on Masatsugu MINAMI by William SHEEHAN
On this 28 January 2019 ,we have lost an irreplaceable great star, Masatsugu MINAMI who, some thirty two years ago, had created an unprecedented and probably the last singular field "Communications in Mars Observations" as an antithesis of the previous defective observing/analysing systems of Mars, in which the dream of well-planned program of classical Mars observation finally came true, to which visual/digital observers across the world could have been submitting their records to find their raisons d'être promptly. It was astonishing that the integrity of this Martians' Shangri-Laish zone had been preserved practically solely by Masatsugu, an unprecedented and presumably the final PURE MARTIAN/visual sketcher on this blue planet.
We are pleased to present here a sharp-eyed and warm-hearted biographical note by Dr. William SHEEHAN who had long been very understanding and a good friend of our Dr. Masatsugu MINAMI.
"Japanese Mars observer donates observing log books to Lowell Observatory" By William SHEEHAN
(PDF 100KB)
( 21 June 2019, Reiichi KONNAÏ)
A. Crucial Loss
We are very sad to imform you that Dr. Masatsugu Minami passed away 11:00 am 28 January in Japanese time due to interstitial pnumonia. He was 80 years old.
He was an amateur astronomer in his highschool age and made drawings of famous great dust storm in 1956. He became a physicist majoring particle physics after graduating university and continued Mars observation.
In 1986 he began to publish Comunications in Mars Observations (CMO) and played a great role to Mars observers in the world, although CMO was changed its style from paper to web.
We pray that his soul may rest in peace.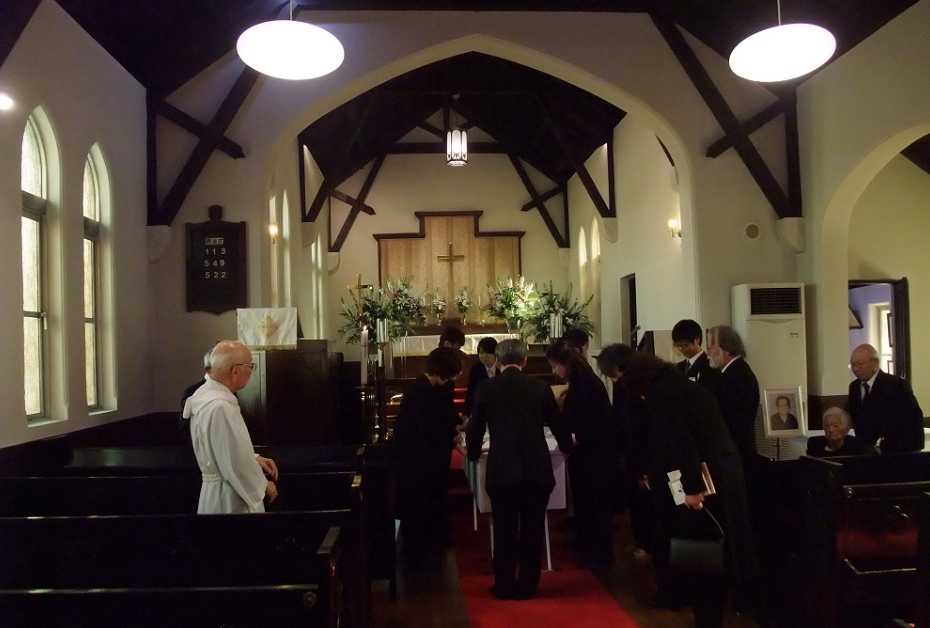 ---
2018 CMO News HEADLINES
Aa.
It Was Our Pleasure to See the Planet Mars Came Back Now to Shine in the Morning Sky
Ab. The 2018 Apparition of Mars Has just Begun
B. Oxus Dark Segment
Ca. Entrainment of a dust disturbance at λ=185°Ls
Cb. Resonances at the beginning of June and aftermath.
Cc. We here show how the overview of the Martian surface changed within a few days:
Cd. The images here show several work from 9 June 2018 (λ=190°Ls)
D. Notable dust disturbance seen at the following area of Sinus Meridiani down to the northern end of Margaritifer Sinus (including Oxia P).
---
2017 CMO News HEADLINES
A.
Conjunction of Mars with Neptune on 1 January 2017
B. Dust disturbances at the Eos area around 18 January 2017 (λ=301°Ls)
C. The Dust Disturbances continue
---
2016 CMO News HEADLINES
A.
Mars is Now Considerably High up in the Eastern Sky at Dawn
B. The Planet Mars now Shines in the Vicinity of Antares ( α Scorpii) at midnight
---
2015 CMO News HEADLINES
A.
Great Loss
B. The planet Mars Has Moved to the Morning Sky
---
2014 CMO News HEADLINES
A.
The Planet Mars Shines Now in the Morning Sky
B. Don PARKER Leads the Mars Observation Race this Apparition!
C. Occurrence of an Arctic Polar Cyclonic Cloud
---
2013 CMO News HEADLINES
A.
Conjunction this Year
B. Mars is Now in the Morning Sky
---
2012 CMO News HEADLINES
A.
The Planet Mars Will be Closest to the Earth on 5 March 2012
B. Protrusions from the Dawn Terminator
C. End of the 2011/12 Apparition
---
2011 CMO News HEADLINES
A.
No Martian Opposition This Year
B. Conjunction
C. The Planet Mars Passed the Time of Conjunction with the Sun
D. The Planet Mars Has Come Back in the Morning Sky E. The planet Mars will attain the apparent diameter δ=9.0"
---
2010 CMO News HEADLINES
A.
The Planet Mars Is Now Approaching
B. Mars Is Going Away
C. Establishment of the International Society of the Mars Observers (ISMO)
D. Reformation of the Staff of the OAA Mars Section
E. Animation of Mars in 2010 by Martin LEWIS
F. Death of Professor Audouin DOLLFUS
---
2009 CMO News HEADLINES
A.
Mars Is Now to the West Side of the Sun just after Conjunction
B. First Announcement of the IWCMO
C. The Planet Mars Is Now Come Back in the Morning Sky
D. Programme of the IWCMO
E. Final Announcement of the IWCMO
F. The IWCMO Has Been Successfully Held in Paris and Meudon
---
2008 CMO News HEADLINES
A.
First Announcement in 2008
B. CAPEN Crater on Mars
C. 2007/2008 Mars Apparition Ended
---
2007 CMO News HEADLINES
A.
Mars is Now Back in the Eastern Sky
B. Welcome to the New 2007/2008 CMO Mars Gallery
C. Noachis dust has been entrained!
D. Origin of the Present Noachis Dust Storm
E. Subsidence of the Noachis Dust Storm
F. Resonant Dust Cores at Nilokeras
G. MIYAMOTO Crater on Mars
H. Sean WALKER's Animated Globe in 2007

---
2006 CMO News HEADLINES
A.
SAHEKI Crater on Mars
B. The 20th Anniversary of the CMO, and the 10th Anniversary of the CMO-Web
C. The 2005 Mars Apparition Ended
D. 2006 Mars at Conjunction
D bis. Mars Now
---
2005 CMO News HEADLINES
A.
The spc is coming, just before the southern vernal equinox
B. Now the season has come when the centre of the spc starts to deviate from the south pole
C. Noachis at λ=250°Ls
D. Solis L area at λ=300°Ls
E. Chicken at Mt Hamilton
F. Yellow Planet again at Opposition
---
2004 CMO News HEADLINES
A.
2004 Lowell Conference at Anamidzu
B. First Conference on Percival Lowell at Anamidzu in 2004

C. Bill SHEEHAN
D. Mars Conjunction

E. Our planet has come back in the morning sky

---
2003 CMO NEWS HEADLINES
A.
First CMO Announcement in 2003
B. The 11th CMO Meeting was successfully held on 3, 4 and 5 May 2003
C. Spectacular Dust Storm was observed here in Japan from 4 July through 8 July 2003
D. Great! but Yellow Planet
E. The biggest Mars on 27 August 2003
F. M Serpentis still darkened and widened
G. December storm
---
2002 CMO NEWS HEADLINES
A.
Jeff D BEISH, ALPO Mars Section and Computing Section, visited Japan and kindly gave an interesting talk to the CMO Members on 24 March at Yokohama.
B. The CMO Editors interviewed Sanenobu FUKUI, now 86 of age living in Yokohama, and listened to his talk about his finding of a Sun-glint flare seen near Solis Lacus on 10 November 1958.
C.
1) Bill SHEEHAN communicated a comment to us on the results of the water distribution over the Martian surface revealed by Odyssey's neutron spectrometer:
2) Tom DOBBINS (11 May) suggested us to refer to the S&T Site on Odyssey's result.
D. The 10th CMO Meeting:
The 10th CMO Planetary Observers Meeting was held at Ina City, Nagano Prefecture, from the night of 2 August to the morning of 5 August 2002.
---
2001 CMO NEWS HEADLINES
A. Edom Brightening on 7 and 8 June
B. Yellow Dust Cloud
C. The 9th CMO Meeting of the Mars Observers was successfully held at Okinawa on 20, 21 and 22 July.
---
This Web-Site is
Edited by Masatsugu MINAMI (vzv03210@nifty.com) and
Maintained by Masami MURAKAMI (cmo@mars.dti.ne.jp) , and Akinori NISHITA .
---