About this site
---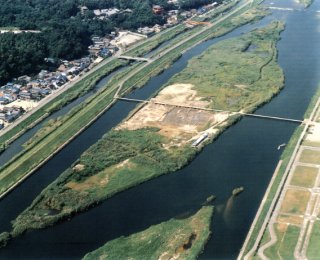 Aerial view of Kusado Sengen under excavation
Welcome to the web space of Kusado Sengen. This WWW site provides information about an excavated medieval town called Kusado Sengen and the Hiroshima Prefectural Museum of History located in Fukuyama City, Hiroshima Prefecture, Japan.
Kusado Sengen had been excavated for more than thirty years and made a significant contribution to medieval archaeology in Japan. Results of the excavation are now exhibited in the museum, which focuses on the History and culture of the people on the Seto Inland Sea. The archaeological resources from Kusado Sengen have been investigated at the museum.
This WWW site is experimental one and privately produced by Yasuyuki SUZUKI. It isn't supported by the museum, though the information is based on that is released by the museum.
I have researched how themuseum should release information with the electronic media. Please send your comments and/or suggestions to me.
---
suzuki-y@mars.dti.ne.jp
Copyright © 1996-1998 Yasuyuki Suzuki & Hiroshima Prefectural Museum of History, Fukuyama, Japan.
Last updated: June 10, 1998.