Kusado Sengen Exhibition Room II
Excavated articles tell us about middle ages
---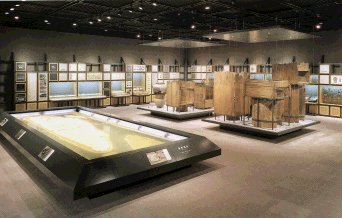 You can get further information about Kusado Sengen in this exhibition room.
Excavated artifacts and ecofacts are displayed being archaeologically classified. Some types of well frame are assembled in the middle of the room. A model of the site represents all the features at the site on a scale of one to a hundred.
Results of excavations at other important sites of medieval Japan are also displays.

---
suzuki-y@mars.dti.ne.jp
Copyright © 1996-1998 Yasuyuki Suzuki & Hiroshima Prefectural Museum of History, Fukuyama, Japan.
Last updated: June 10, 1998.