Reconstruction of Kusado Sengen
Cemetery and Shrine
---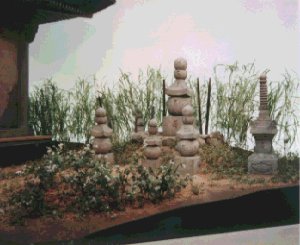 At the end of the alley, there is a shrine that are worshipped by people in the town. A cemetery is located next to the shrine. Gravestones stand there.
[Marketplace beside a Wharf] [Craftsmen's Workshops] [Cemetery and Shrine]
---
suzuki-y@mars.dti.ne.jp
Copyright © 1996-1998 Yasuyuki Suzuki & Hiroshima Prefectural Museum of History, Fukuyama, Japan.
Last updated: June 10, 1998.