Reconstruction of Kusado Sengen
Craftsmen's Workshops
---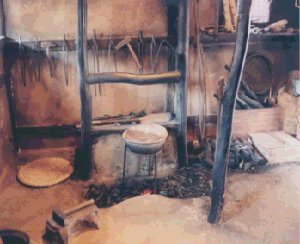 Blacksmiths, lacquer ware makers and clog makers live in their workshops. It's time to start supper. Dishes have been prepared in the dining rooms.
[Marketplace beside a Wharf] [Craftsmen's Workshops] [Cemetery and Shrine]
---
suzuki-y@mars.dti.ne.jp
Copyright © 1996-1998 Yasuyuki Suzuki & Hiroshima Prefectural Museum of History, Fukuyama, Japan.
Last updated: June 10, 1998.