Reconstruction of Kusado Sengen
Marketplace beside a Wharf
---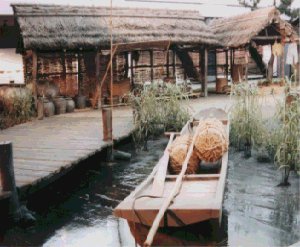 There is a marketplace beside a wharf. Various kinds of seafood, vegetables, beans, rice, lamp oil and pottery are sold at the market. There is a public well beyond the market.
[Marketplace beside a Wharf] [Craftsmen's Workshops] [Cemetery and Shrine]
---
suzuki-y@mars.dti.ne.jp
Copyright © 1996-1998 Yasuyuki Suzuki & Hiroshima Prefectural Museum of History, Fukuyama, Japan.
Last updated: June 10, 1998.